Assassin's Creed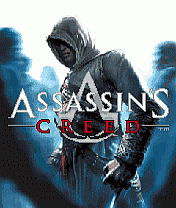 Added
: 12.12.2008

Downloads
: 299637

Vendor
: Gameloft

Description
: Jerusalem, 1191 A.D. The Third Crusade is tearing the Holy Land apart. You play Altair, a disgraced Master Assassin, sent to kill eight men (both Saracens and Crusaders) in order to end the Third Crusade. Along the way, you discover that the men share a dark secret - one that threatens not only the Holy Land - but the entire world. Assassin's Creed is the new franchise that redefines the action/adventure genre with an innovative, rich gameplay that provides a well-balanced mix of stealth, chaotic action and riddle-solving exploration in the midst of 4 vivid, responsive environments.
supplied by Harsha (Android version)
The game's characteristics and screenshots may vary according to the model of your phone.

Nokia 5200 (
128x160
)

JAD
|
JAR
110.7kB

Nokia 5200 [CZECH] (
128x160
)

JAD
|
JAR
115.6kB

Motorola L6 (
128x160
)

JAD
|
JAR
328.0kB

Samsung SGH-E250i / E350 (
128x160
)

JAD
|
JAR
115.1kB

SonyEricsson K500i [CZECH] (
128x160
)

JAD
|
JAR
324.0kB

SonyEricsson K500i (
128x160
)

JAD
|
JAR
324.5kB

©  Dedomil 2oo3-2o2o