Iron Marines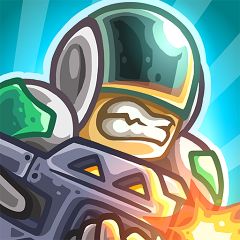 Added
: 30.10.2020

Downloads
: 4922

Vendor
: IRONHIDE Sociedad Anonima (S.A.)

Description
: From the creators of the award winner, Kingdom Rush saga comes the most extraordinary real time strategy offline game! Fight challenging real time strategy sci fi battles on amazing and unknown planets. Command brave soldiers, mighty mechas and powerful aliens against hordes of space monsters, swarms of insectoids and robot armies in a galaxy far far away in this amazing rts offline game.
Iron Marines will give you hours of gameplay in the best real time strategy game available for mobile!
PLAN, ATTACK AND BEAT ALL THE ENEMIES ADAPTING YOUR STRATEGY IN REAL TIME
Change the role of your troops even in the thick of the combat, from ranger to sniper, from flamethrowers to missile launchers.
RECRUIT AND TRAIN THE GREATEST HEROES AND BE PREPARED FOR THE ACTION
Lead them into dangerous territory against near-impossible odds and unleash their mighty powers and abilities.
supplied by Harsha
The game's characteristics and screenshots may vary according to the model of your phone.

Android 9.0 (Pie) / v1.5.23 (
1920x1080
)

download
543.2MB


Donate: 1ECupCKyzjmyL2iQKhC85mFm8YiUhiisRz
©  Dedomil 2oo3-2o21