Cube Land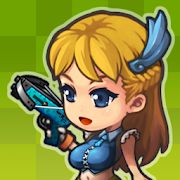 Added
: 23.11.2019

Downloads
: 731

Vendor
: Gimle Games

Description
: Explore Dungeon which has changed endlessly with the power of the Cube, collect unique weapons, shoot up monster while avoiding bullets! You can buy weapons, level up ability also unlock new Hunter by gold, cube coin. Rogue-like elements mixed gameplay provides new dungeons and new experiences each time.
Features:
- Auto aim Twin Stick Shooting
- Randomly generated dungeon, various backgrounds, various monsters.
- 12+ Hunters with unique weapons
- Enhance hunter by 9 ability level up
- 75+ various weapons
- 40+ tails for costume
- 30+ skills to improve character's abilities
- 2D Cartoon-style graphics
supplied by Harsha
The game's characteristics and screenshots may vary according to the model of your phone.

Android 9.0 (Pie) / v1.1.9 (
1920x1080
)

download
77.6MB

©  Dedomil 2oo3-2o2o