Maya the Bee: The Nutty Race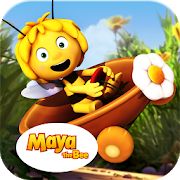 Added
: 17.11.2019

Downloads
: 1452

Vendor
: Midnight Pigeon

Description
: Entertain your kids with this lighthearted Maya the Bee kids race game! Perfect for young children, there's no pressure as the cast of Maya the Bee drive through tracks set amidst beautiful 3D nature scenes. Your child can enjoy hours of entertainment as they race for first place, play around with powerups, or just enjoy the cartoon scenery. Let the Nutty Race begin!
Key Features of Maya the Bee: The Nutty Race
- Pick up and play race game: Exciting and accessible arcade driving game for young children.
- Fun powerups: Water balloons, speed boosts, and dropping sticky honey - there are many fun things for a young racer to do.
- Preschool playtime fun: Your child can enjoy the game how they like - go for first place, or just have fun driving around!
- Fun with friendly Maya: Race with all the recognizable characters from the Maya the Bee children's stories - your toddler can pick their favorite character.
- Ad-free premium product: no adverts or in-app payments - Maya the Bee: The Nutty Race is a complete product, so your toddler can focus on having fun!
supplied by Harsha
The game's characteristics and screenshots may vary according to the model of your phone.

Android 9.0 (Pie) / v1.1 (
1920x1080
)

download
64.7MB

©  Dedomil 2oo3-2o2o