WWE Aftershock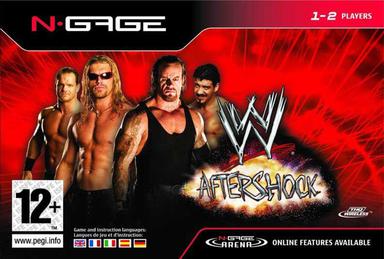 Added
: 15.08.2005

Downloads
: 41283

Vendor
: THQ Wireless

Description
: Get ready for some hardcore wrestling action as WWE Aftershock invades the N-Gage platform! Featuring today's top WWE Superstars and their arsenal of signature moves, WWE Aftershock pushes the unparalleled capabilities of the N-Gage to bring on the big hurt in a real-time 3D environment. WWE Aftershock brings you drama, action and Superstar personalities - rough and rugged, ugly and uncensored. Multiple cinematic camera angles, exceptional animation and a wide variety of single and multiplayer modes make this game the main event. Can you handle the pain? Think you're good enough to grapple for the title belt? Then step up to the challenge of WWE Aftershock and make the crowd cheer!
Features:
- Ten WWE Superstars (plus two unlockable) featuring high-flying signature moves
- Head-to-head two player competition via Bluetooth
- Fully rendered 3D arenas with a multitude of camera angles to enhance the drama and action
- Full environmental sound effects, including dynamic crowd reactions and unique Superstar theme music
The game's characteristics and screenshots may vary according to the model of your phone.

Nokia N-Gage (
176x208
)

download
11.2MB


Donate: 1ECupCKyzjmyL2iQKhC85mFm8YiUhiisRz
©  Dedomil 2oo3-2o21