Jelly Jelly 2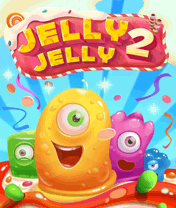 Added
: 02.09.2019

Downloads
: 1162

Vendor
: Cocos2DX

Description
: Replongez dans la folie des gelées avec la suite de ce jeu de puzzle toujours aussi addictif! Cliquez sur les groupes de gelées identiques pour les faire exploser, en essayant de réaliser des combos pour obtenir des gelées spéciales aux effets dévastateurs. Utilisez des boosters variés, débloquez des succès et profitez de graphismes de grande qualité et d'un gameplay très dynamique tout au long de 100 niveaux bourrés de fun.
Note: Game is only in FRENCH language.
The game's characteristics and screenshots may vary according to the model of your phone.

Android 6.0 (Marshmallow) / v1.0 (
1920x1080
)

download
14.0MB

©  Dedomil 2oo3-2o2o