Frost Legend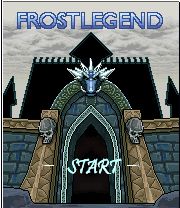 Added
: 21.06.2019

Downloads
: 30891

Vendor
: GameMobile.com

Description
: As the descendant, Frank is ready to fight back for the familial castle which has been in a solitary state by a mysterious power since the day his cursed ancestor passed away. Unlike other familiar RPG mobile games, this one imports plenty of marvelous animation aside from the facile actions. Easy to operate, key 5 to attack, the well shaped key is to leap and key 8 to squat, besides, key 4, 6 are for direction controls. For the main menu display, simply press the soft keys.
Refer to the facility and the consistency, the related keyboard settings together with the skill input have been processed in a comfortable and efficient way. But the enemy in this line of mobile games is granted with a variety of professions thus will give the player a hard nut to crack. In particular, the Boss is the excellence of all. To fully present the essence of the RPG mobile games, the shadow upgrading system, the character information and the NPC have been considerably added. Despite of the compact stages and the tremendous map set, the various monsters will unfold us the Weltanschauung in this line of RPG mobile games through the animated plot. Last but not least, the frequent case-solving spirit will be seen also.
To produce highly amusing RPG mobile games, we devoted to the high fidelity graphics, the magnificent professions and the closely connected animations, including the coming one.
The game's characteristics and screenshots may vary according to the model of your phone.

Nokia 3250 (
176x208
)

Nokia 7610 (
176x208
)

Nokia N-Gage QD (
176x208
)

Nokia N73 / N95 / 6280 / 6300 (
240x320
)

JAD
|
JAR
262.2kB


©  Dedomil 2oo3-2o21