Lava Lava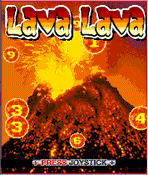 Added
: 08.06.2019

Downloads
: 10298

Vendor
: FuguMobile

Description
: Mount Fuji, Japan:
Fuji san, the most revered mountain in Japan? Has roared to life. Destroy the lava bombs before they lay waste to the entire city.
Mount Merapi, Indonesia:
According to Javanese mythology, the volcano is the kingdom of spirits who if angered rain hell on the villages. Placate the spirits and save the village.
Mount Kilamanjaro, Tanzania:
The icecap atop the volcano has melted and the animals are running to escape the heat? Destroy the lava bombs before they cause more damage.
Mount McKinley, USA:
Global warming or global warning? The spate of volcanic eruptions is a cause of concern, but first, save the city.
The game's characteristics and screenshots may vary according to the model of your phone.

Samsung SGH-E370 (
128x160
)

JAD
|
JAR
65.8kB


©  Dedomil 2oo3-2o21