Christmas Rallye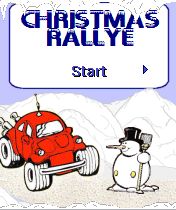 Added
: 08.06.2019

Downloads
: 12255

Vendor
: TinySolutions

Description
: You have to hurry up to get all the presents for christmas. So start your buggy and go on your way over 10 exciting levels. Collect the presents and be careful not to crash your car. You can jump over the holes and obstacles or blast them away with your build in gun.
supplied by KodopiK (Nokia S60 version)
The game's characteristics and screenshots may vary according to the model of your phone.

Nokia 6600 (
176x208
)

JAD
|
JAR
97.9kB

Nokia 3100 (
128x128
)

JAD
|
JAR
62.8kB


Donate: 1ECupCKyzjmyL2iQKhC85mFm8YiUhiisRz
©  Dedomil 2oo3-2o21