Potravni Retezec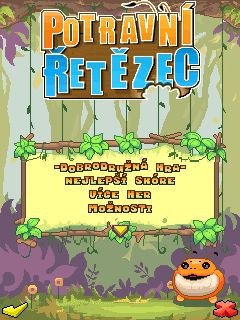 Added
: 25.10.2009

Downloads
: 9169

Vendor
: Living Mobile

Description
: This is a nice logic arcade which will be interesting for small children. Your task is to prevent the predatory insects from eating the main character having a long and sticky tongue. You can make the sound on and off in the options, you can find hints, choose the language and to restart the game. There is also a records table. Children will surely like the bright graphics of the game. Cute faces of the insects hide their predatory nature. The game has several modes. At the beginning there is only one available mode. Puzzle mode will be unblocked in the fourth level (there are 40 levels in total). Game for limited time will be available on the 25th level.
(originalny popis v cestine bohuzial nemam)
The game's characteristics and screenshots may vary according to the model of your phone.

Nokia N70 [CZECH] (
240x260
)

JAD
|
JAR
213.3kB

©  Dedomil 2oo3-2o21