Santa's Xmas Adventure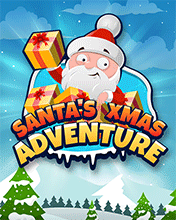 Added
: 10.11.2017

Downloads
: 21285

Vendor
: Inlogic Software

Description
: Santa had an accident! He lost his way and all the gifts. Help him get to his goal by sliding road tiles to form a path. A classic puzzle game which is harder than it looks! Tons of levels in three modes to master. Test your skills and join Santa's adventure! When you're stuck, use a hint. Are you up for the challenge?
supplied by Harsha (Android version)
The game's characteristics and screenshots may vary according to the model of your phone.

Nokia 6230i / 5500 (
208x208
)

JAD
|
JAR
233.5kB


Donate: 1ECupCKyzjmyL2iQKhC85mFm8YiUhiisRz
©  Dedomil 2oo3-2o21