Color Swap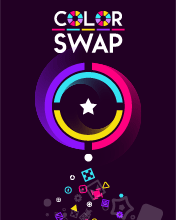 Added
: 22.07.2017

Downloads
: 13403

Vendor
: Inlogic Software

Description
: Tap to keep the ball bouncing in the air and match its color to each obstacle in order to pass through them. Pass through as many obstacles as you can before crashing into a different color than your ball. The challenge of the game is that the obstacles are moving and the ball swaps colors. Collect stars on your way so you can buy different balls. Play endlessly in arcade or try out also other game modes with lots of levels.
supplied by Harsha (Android version)
The game's characteristics and screenshots may vary according to the model of your phone.

Nokia E6-00 (
640x480
)

download
271.9kB

©  Dedomil 2oo3-2o2o