UNO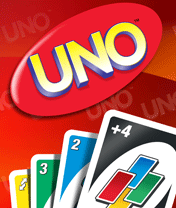 Added
: 17.03.2009

Downloads
: 65992

Vendor
: Gameloft

Description
: Everybody knows UNO - the classic card game of matching colors and numbers that's #1 for family fun. Now you can play it on your mobile phone against computer opponents or friends on a single device! Customize the game with your own house rules and penalties, throw down Action Cards like Skip and Reverse in furiously thrilling games! Get rid of your hand before everyone else, but don't forget to shout "UNO!" when you're down to one card!
Cheats: Press 1379 on menu to enable cheat. While on your step on gameplay press # to popup a cheat menu. Press 1973 to unlock all icon on menu.
The game's characteristics and screenshots may vary according to the model of your phone.

Nokia E6-00 (
640x480
)

download
1.3MB

©  Dedomil 2oo3-2o2o