Sonic Runners Adventure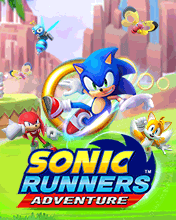 Added
: 27.06.2017

Downloads
: 289470

Vendor
: Gameloft

Description
: Sonic the Hedgehog and his friends are back in a brand-new runner! Relive his supersonic adventures as you jump, dash and fly through exciting platforming levels. Unlock new characters including Tails, Knuckles and more, each with their own unique abilities you can power up. Save Sonic's universe by fighting Eggman across 4 iconic locations. All this in a compact download so just about anyone can enjoy some fast action!
supplied by Harsha (Android version)
The game's characteristics and screenshots may vary according to the model of your phone.

Nokia 5800 Xpress Music (
360x640
)

download
1.3MB


©  Dedomil 2oo3-2o23