Holi Craze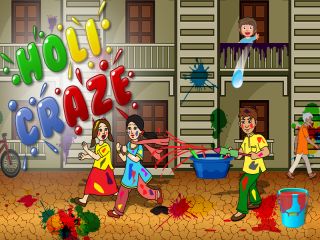 Added
: 15.03.2017

Downloads
: 6277

Vendor
: Game Neeti Technology Pvt. Ltd.

Description
: Looking for a New Holi Game? Get ready for a Holi fun, play as a mischievous boy. Your targets are the people on the street, color them with balloons. Enjoy this colorful game with vivid graphics and funky characters like the angry old man, mischievous kids, beautiful girls and ladies with clay pot and bad boys who tries to steal your balloons. You have color balloons to color them and stones to break their pots. First throw the stone to break their clay pot and then throw balloons to color them. Remember don't color the old man. Holi Craze adds a fun twist with 15 addictive levels which will serve you the perfect challenge. Download now and start playing to discover new colors of fun with this crazy Holi game.
The game's characteristics and screenshots may vary according to the model of your phone.

Samsung GT-S5380K (
320x480
)

JAD
|
JAR
361.8kB

©  Dedomil 2oo3-2o18