Tubby Birds 2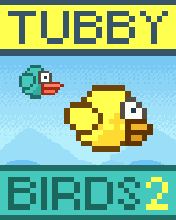 Added
: 18.01.2017

Downloads
: 17262

Vendor
: Inlogic Software

Description
: One simple mechanic, one Tubby bird, one aim! Fly as far as you can in this simple to learn and fun to play game. Enjoy retro art, various Tubby birds and backgrounds and work hard to earn all medals! Can you you help the Tubby birds fly to infinity?
supplied by Harsha (Android version)
The game's characteristics and screenshots may vary according to the model of your phone.

Nokia 6230i / 5500 (
208x208
)

JAD
|
JAR
66.1kB

Nokia Asha 500 / 501 (
208x208
)

JAD
|
JAR
71.3kB


Donate: 1ECupCKyzjmyL2iQKhC85mFm8YiUhiisRz
©  Dedomil 2oo3-2o21