Petrol Boy Millionaire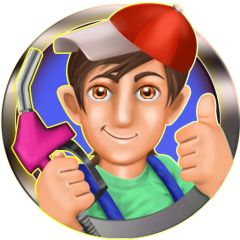 Added
: 11.01.2017

Downloads
: 723

Vendor
: Mobi2Fun

Description
: Poor Petrol Boy now wants to become Millionaire with his small Petrol Station! You play as Petrol Boy and show your skills to manage your time, customer's money and achieve your goal. Each driver has $10 to spend at the pumps and use D-Pad to move around, when a car arrives at a pump run towards a pump to it to start filling it up. But make sure you return to the car in time to stop it at $10. If you don't serve any customer then you will lose $5 from your account. A car left overfilling loses you money and creates a dangerous spillage! Run over the spillages to clean and make it safe. Remember you have only three chances to fill over spillages and game will be over when you use all three! So do watch out for alert messages above the pumps. Make yourself busy to attend all customers & save all amounts to become millionaire.
Features:
- Brings you to get engage and busy all time throughout the game
- Manage time and serve all cars at a time
- Hold the breath on alert massage pop-ups
- Limited life
- Addictive game play as the time goes on
The game's characteristics and screenshots may vary according to the model of your phone.

Android 2.2.x / v1.0.0 (
480x800
)

download
2.1MB

©  Dedomil 2oo3-2o18