Moto Racing 3D 2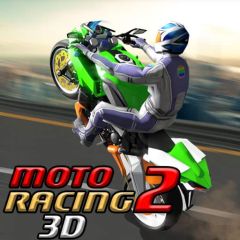 Added
: 06.01.2017

Downloads
: 63186

Vendor
: Rendered Ideas

Description
: Ad-free full version. Sequel to Moto Racing 3D. Defeat the traffic, ride your bike to challenge everyone. Realistic scenes, sounds and cool graphics makes this game very addictive to play. If you're a fan of cool cars and bikes, don't miss this game.
How to play:
- Tilt your phone left and right to control driving direction.
- Touch screen to speed up and get double scores.
- Be careful with the traffic and road/tunnel sides.
The game's characteristics and screenshots may vary according to the model of your phone.

Nokia 5200 (
128x160
)

JAD
|
JAR
915.7kB


Donate: 1ECupCKyzjmyL2iQKhC85mFm8YiUhiisRz
©  Dedomil 2oo3-2o21