3D Mystic Ways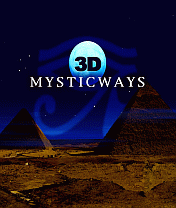 Added
: 27.03.2009

Downloads
: 16153

Vendor
: Qplaze

Description
: Complicated structure, as the fantasy of unknown artist, hanging among the stars, in the deep space. Jumping ball on it - fast, cold, searching it's way to the far glimmering teleport. The traps on his way - mines, ices, saws, invisible parts of structure and dead ends,
which snap into emptiness. The coins, thrown in the mess, glaring brilliant in the star light... Inexorably ticking timer, which counts the time left...
And the key, without which you can't exit the puzzle, well sheltered on the one of borders of this inverted labyrinth.
The game's characteristics and screenshots may vary according to the model of your phone.

3D Mystic Ways (s40v3a) (
240x320
)

JAD
|
JAR
183.2kB

3D Mystic Ways 240x320 E50/N73/N95 (
240x320
)

download
180.3kB

Motorola E1000 / RAZR2 V8 (
240x320
)

JAD
|
JAR
139.5kB

Samsung SGH-D600 / D900 (
240x320
)

JAD
|
JAR
105.3kB

SonyEricsson K800i / S700i (
240x320
)

JAD
|
JAR
277.7kB


©  Dedomil 2oo3-2o21