Pocket Zoo Keeper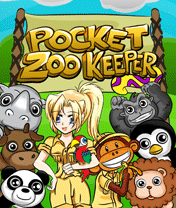 Added
: 14.06.2016

Downloads
: 18000

Vendor
: Mforma Group

Description
: The fun never stops in this addictive zoo management game as you use your skills to help Jessie the Zoo Keeper bring her zoo to life. Create animal habitats for over 19 different animal species and attract visitors to the zoo with restaurants, facilities and souvenir stands. What kind of zoo will you make?
Note: Install over JAD.
The game's characteristics and screenshots may vary according to the model of your phone.

Amoi 8709 (
240x320
)

JAD
|
JAR
159.7kB

©  Dedomil 2oo3-2o2o