Just Jump 2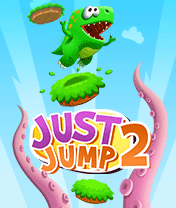 Added
: 25.03.2016

Downloads
: 9766

Vendor
: Baltoro Games

Description
: After the events of Just Jump, Luigi the mouse has escaped the laboratory. But the evil pink monster is still following our little friend's track. This time not only Luigi is in danger but also his little friends, whom he just learned to know: meet Charlie the hamster and Roxy the baby dinosaur. Help all three of them to escape the slimy pink monster! Pickup hidden jetpacks & superpower ups so you can fly away from the enemy! Collect coins throughout your journey to unlock special jumping modes.
supplied by Harsha (Android version)
The game's characteristics and screenshots may vary according to the model of your phone.

ZTE Jack (
320x240
)

JAD
|
JAR
448.8kB

ZTE X991 (ZTE Jack) (
320x240
)

JAD
|
JAR
448.8kB

©  Dedomil 2oo3-2o2o