Which is your deadly sin?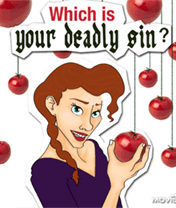 Added
: 22.02.2016

Downloads
: 18572

Vendor
: Movisol Media

Description
: The 7 Deadly Sins are a classification of reprehensible vices that has been used since early Christian times. They are seen as the origin of every other sin. Wrath, Gluttony, Lust, Envy, Pride, Sloth and Greed... Are you guilty of any of them? Which of The Seven Deadly Sins Controls Your Life? Find it out now with this fun test! Relax: This is not an X-Ray machine... we have not developed it yet. You don´t believe us? Try this fun quiz and see for yourself!
The game's characteristics and screenshots may vary according to the model of your phone.

LG BL40 (
345x800
)

JAD
|
JAR
303.1kB

©  Dedomil 2oo3-2o2o