Jurassic Bubbles 2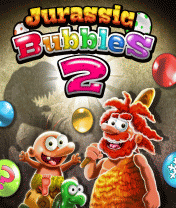 Added
: 09.07.2015

Downloads
: 50825

Vendor
: Barbarian Monkey

Description
: If you like playing bubble pop arcade games, then you'll love Jurassic Bubbles 2! Set in the Stone Ages, join caveman Tuk and his son Gog as they fire bubbles at the pterodactyls. Simply connect three or more bubbles of the same colour to make them pop and move on to the next level. Jurassic Bubbles 2 is an easy arcade game to pick up and play. Using your touchscreen, simply direct where you want the bubble to go and Tuk will hit it with his club in that direction. You'll only have a limited number of moves or time per challenge so you'll have to be quick! How far will your quick thinking take you? Only one way to find out! Play Jurassic Bubbles 2 on your mobile device today.
supplied by Vampire GraN (GT-S8000, N95, E71, K800i, K750i, N70, N3220, N5200, N5800, Asha 305, C3-00, 6280)
The game's characteristics and screenshots may vary according to the model of your phone.

LG GB270 (
120x160
)

JAD
|
JAR
156.5kB

Motorola T725 (
120x160
)

JAD
|
JAR
154.8kB


Donate: 1ECupCKyzjmyL2iQKhC85mFm8YiUhiisRz
©  Dedomil 2oo3-2o21