Roll N Run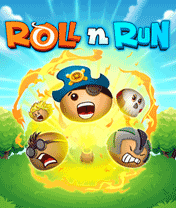 Added
: 24.06.2015

Downloads
: 16317

Vendor
: ZED

Description
: Don't look back and keep on rolling! Alien monsters have landed on the paradise shores of the Mudanza island. Home of the "Tiny Dodoos". Help them fighting back, running, collecting Star coins, smashing monsters and reaching for the highest score. Tap either side of the screen to move the character. Watch out for obstacles that'll stop you dead in your journey. Choose your "Tiny Dodoo" among 5 different Dodoo characters and with 6+ awesome power-ups to pick-up.
supplied by Vampire GraN (X3-02, C3-00, N5200, K800i, N6300, N5800)
The game's characteristics and screenshots may vary according to the model of your phone.

LG BL40 (
345x800
)

JAD
|
JAR
369.6kB

©  Dedomil 2oo3-2o2o