Deer Hunter 3D HD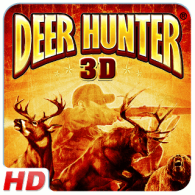 Added
: 19.07.2012

Downloads
: 56094

Vendor
: GLU Mobile

Description
: The most REALISTIC and AUTHENTIC hunting sim returns. It's time to RELOAD your rifles and take to the wilds of North America to bag the BIGGEST GAME out there.
FEATURES:
- Virtual hunting simulation with realistic 3D visuals
- Different types of animals with true-to-life senses and behaviors
- 4 worldwide locations with 30 different shooting locations
- Hunt Easter Egg animal (exclusively available for holiday seasons)
- Use your scope to zoom in for more precise and devastating kills
- Develop your hunter s skills in accuracy, reflexes, endurance, and tracking
- Relive your best kills and achievements in the trophy room
- Unlock new weapons, skills and hunts by bagging the biggest animals
The game's characteristics and screenshots may vary according to the model of your phone.

Deer Hunter 3D 480x800 HTC Touch Pro 2 (
480x800
)

download
2.5MB


©  Dedomil 2oo3-2o21