R.U.S.H Street War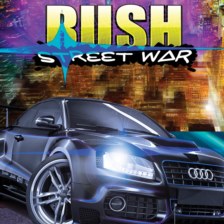 Added
: 30.01.2013

Downloads
: 64670

Vendor
: Qplaze

Description
: Your time has come, speed hunters! Step on gas, get a nitro portion to your engine, and in a second the maximum speed gives you crazy drive, you are not wind - you are faster than wind. Your music is the engine sound and you can't be defeated as long as you drive! Roads and speed - this is the passion of a real racer. You can observe the cars of regular drivers passing by, but you don't pay much attention to this, your task is to become the first. Easy turn of the wheel and you appear in few centimeters from fence, another turn and you can see two cars moving in both sides of your car, it seems that they are moving backwards. More gas, more speed! This is a real street war, if you win this war you will have the right to be called number one!
Note: Install only over JAD file if you don't want DEMO!
The game's characteristics and screenshots may vary according to the model of your phone.

R.U.S.H. Street Wars (s40v3a) (
240x320
)

R.U.S.H. Street Wars 240x320 C905 (
240x320
)

JAD
|
JAR
325.5kB

R.U.S.H. Street Wars 240x320 K800i (
240x320
)

JAD
|
JAR
382.0kB

R.U.S.H. Street Wars 240x320 SGH-F480 (
240x320
)

R.U.S.H. Street Wars 240x320 RAZR V6/V8 (
240x320
)

R.U.S.H. Street Wars 240x320 N95/N73 (
240x320
)

download
425.3kB


©  Dedomil 2oo3-2o21