Who Wants To Be a Millionaire?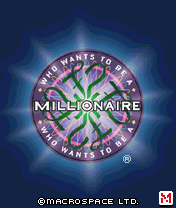 Added
: 09.04.2009

Downloads
: 2631

Vendor
: GLU Mobile

Description
: Relive the tension of one of the most popular game shows in the world! Test your general knowledge skills as you try to reach the magic million pound question in this fantastic mobile version of 'Who Wants To Be A Millionaire?'. The game includes all the features of the TV show, including 50/50, Phone A Friend and Ask The Audience. The questions are randomly drawn from a pool of hundreds of different general knowledge brain teasers, so every time you play it's a totally new challenge! It's the perfect play anywhere, anytime mobile game.
The game's characteristics and screenshots may vary according to the model of your phone.

Who Wants To Be A Millionaire? Part 1 540x960 HTC Sensation (
540x960
)

download
3.1MB

©  Dedomil 2oo3-2o2o