Castle of Magic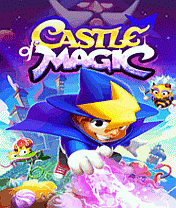 Added
: 02.10.2008

Downloads
: 173778

Vendor
: Gameloft

Description
: Be ready for anything to save your girl from the evil wizard Nefastax! Learn magic powers to change into a hornet, swordfish, or many other forms that will allow you to complete your various missions. Get ready to face legions of fantastical, magical monsters in environments that modify all your movements using a revolutionary "surface simulation" system. Depending on where you are, the ground could make you stick, slide, sink, swim, levitate, or even walk on the ceiling when gravity disappears! Are you ready to turn your mobile into a magic wand? Explore 5 fantastical lands and confront monsters using your magic powers in the most fun platform game on your mobile phone!
Cheats: Type in main menu 1973 to enter the menu to unlock all levels.
The game's characteristics and screenshots may vary according to the model of your phone.

BlackBerry 8520 / 8530 (
320x240
)

download
474.1kB

©  Dedomil 2oo3-2o2o